Skegness Sands - Home
At Skegness Sands we have panoramic seaviews over one of the finest sandy beaches to be found for miles. With direct access to the beach and promenade you can really relax and soak up the atmosphere. The park has been carefully planned and landscaped into areas of between 10 and 30 caravans with each area having an attractively designed feature as a main focal point.
Caravan owners at Skegness Sands are provided with immaculately groomed spacious areas in which the homes are positioned. Our objective is to provide you with an area of relative privacy in beautiful surroundings with views that are pleasing to the eye.
All our caravans have a 32 amp electrical supply and an illuminated bollard by the door. The caravan is sited on a gravel base with a paved surround and chained down with chains and tension bolts to make the caravan stable and secure. Each caravan base has its own individual hard standing car parking space.

The park is patrolled by a professional security officer throughout the year – even during the closed winter months so that you can relax in the knowledge that your caravan is carefully monitored at all times.
Skegness Sands proudly boasts the largest indoor swimming pool in Skegness complete with its own secluded sun terrace. Complimentary swimming pool passes are available to all our caravan owners

For further information about Skegness Sands please call 01754 762231
Latest Caravan Listing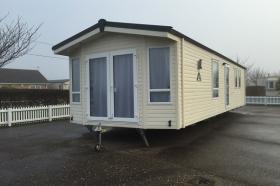 ATLAS CHORUS
£28,000.00
Size: 36 x 12
Bedrooms: 2
Year: 2017
Available For Viewing At: The Beeches
Like us on Facebook
Latest News
20th February 2017
There is just over a week until we are open for the season. If we drained your caravan off, please give us at least 3 days notice for re-connection. Please call 01754 762231 Thank you...
3rd January 2017
We will be closing for the season on Thursday 5th January Please make sure that your caravan has been drained down for the winter If you would like us to do this for you please call the office on 01754 762231 The charge for this is &p...