The Beeches - Home
The Beeches is situated on Trunch Lane at Chapel St Leonards.
It is situated in a rural area and offers peace and tranquillity. Being a private site it does not have the hustle and bustle of commercial sites.
The caravans are laid out in crescents and close's. Each base has its own hard standing car park and outside light. There are features throughout the site which blend in with the beautiful landscaping and lush green turf.
The caravans are sited on a gravel base with a paved surround. Each van is then chained down with chains and tension bolts. All caravan bases have 32 amp electrical supply and a hard standing car park.

For further information about The Beeches please call 01754 871877
Latest Caravan Listing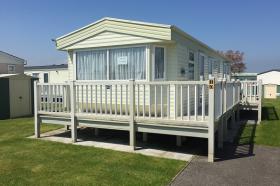 ABI BRISBANE
£POA
Size: 35 x 12
Bedrooms: 2
Year: 2004
Available For Viewing At: The Beeches
Like us on Facebook
Latest News
21st May 2017
Swimming Pool will be open for the season on Saturday 27th May 2017 ...
1st March 2017
Its the 1st of March - that can only mean one thing - we are open for the season ...